In this article, we will go over the necessary steps to set up an A/B test campaign in Creatopy and how to check its progress. We've listed some requirements and limitations you should be aware of. If you'd like to learn more about A/B testing, please visit this article.
Requirements & Limitations
When setting up an A/B test campaign, you can select up to 5 creatives.

The selected creatives used in your A/B test must be the same size.

Currently, design sets can't be used in your A/B test campaign.

Once you've finished setting up your A/B test campaign, you have three days to input the ad tags into your chosen DSP.

The duration of an A/B test campaign will range between 7 to 30 days.

Deciding on a winning creative requires an 85% probability, after which the test will end, and that creative becomes the winner continuing to be served and running your ads.
Setting up an A/B Test
Select the creative(s).
Click on Set up A/B test from the listing above.

Alternatively, you can right-click on a creative and select Set up A/B test.

Once you've chosen the creatives, click Continue.
Give a name to the campaign and set a description (optional).
Click Finish setup.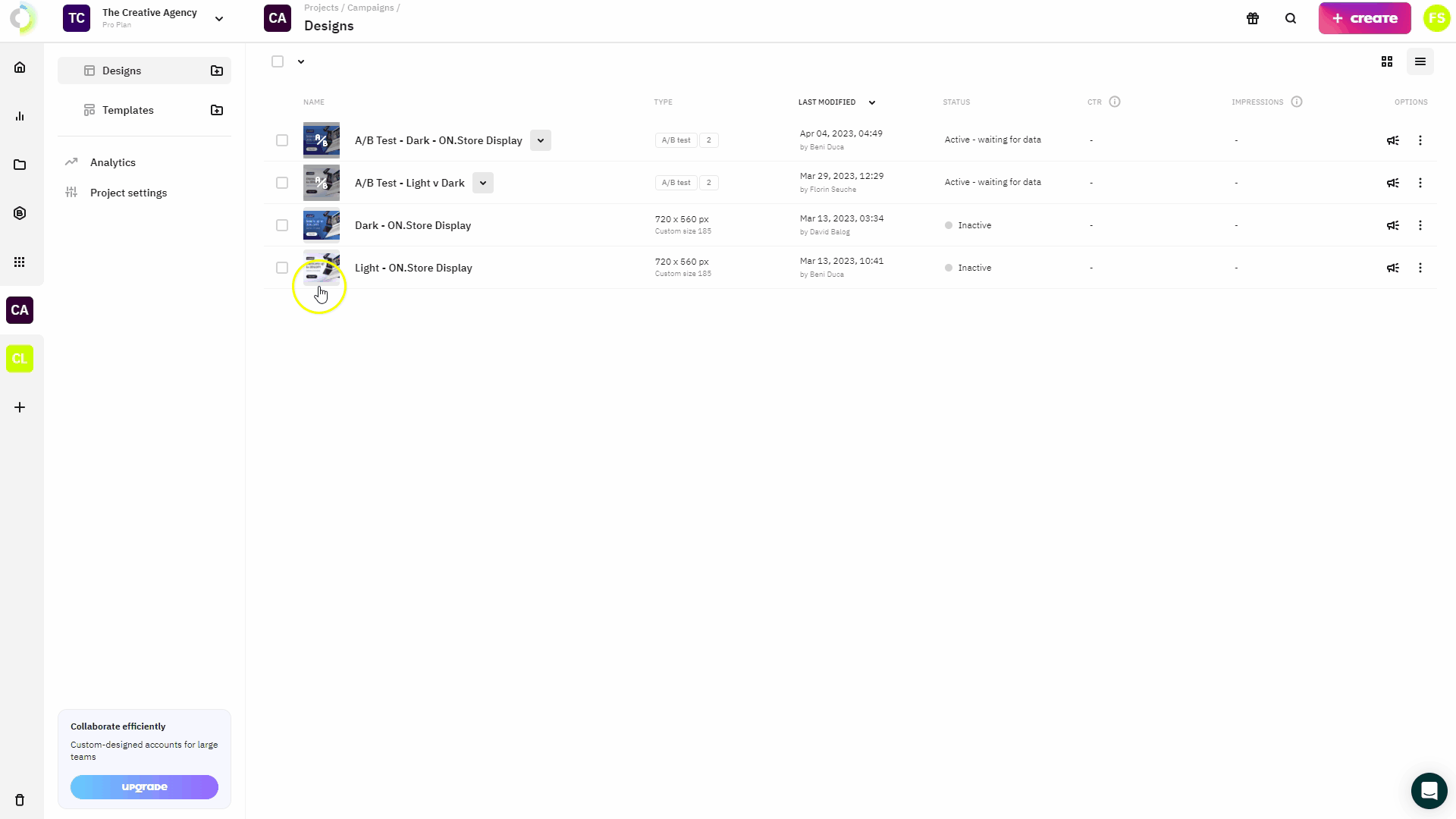 Set the Ad Serving settings
Go to Ad Serving settings.
Adjust Ad Serving settings as needed, including choosing your DSP.

Additionally, you can adjust your ClickTag options if needed.

Copy the ad tag into your DSP of choice¹.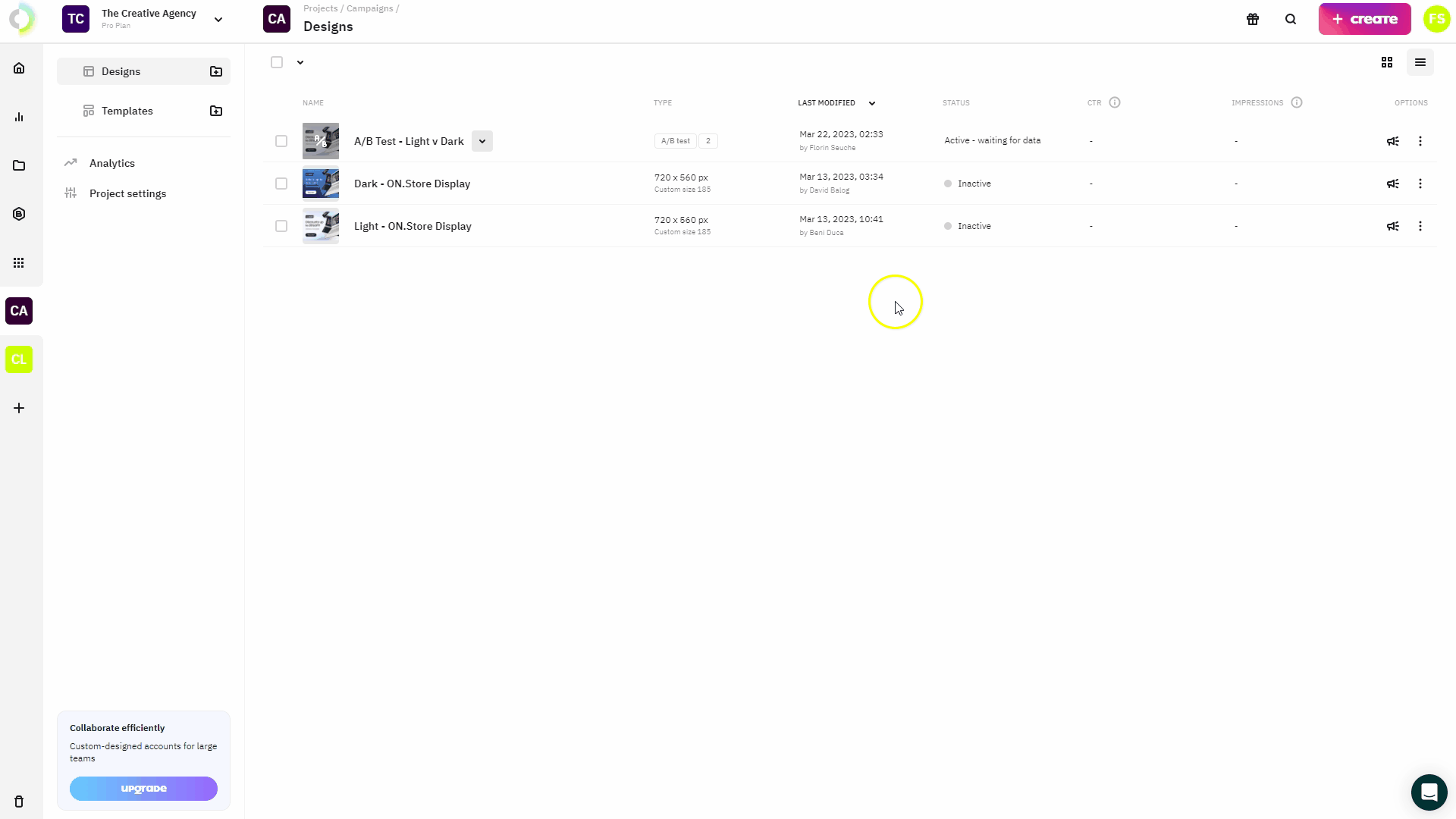 Follow the results
You can access the progress of your A/B testing campaign from the side panel view while the test is ongoing, or you can check it from the project's analytics section.
Side-panel view
Locate and click on the A/B test in the project.
A side-panel view will open with the Test Results.
You can filter through the available metrics (Clicks, Impressions, and CTR).
Project's Analytics
Open the Project.
Click on Analytics.
Click on Add Filter.
Go to A/B test, and select
Filter through Clicks, Impressions, and CTR.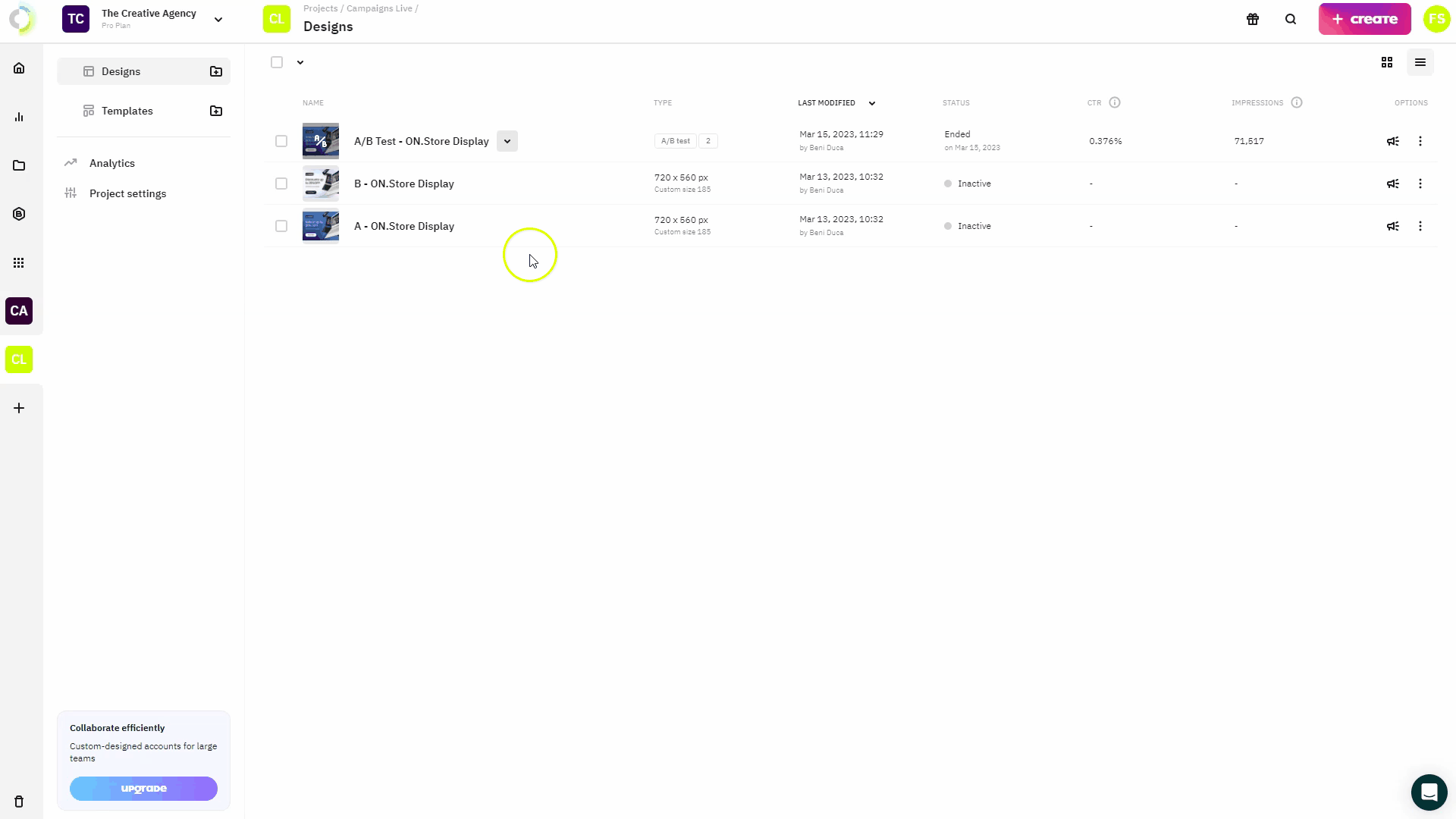 You can also check out the video tutorial below on how to set up an A/B test campaign.
Important: We do not collect cookie information from the users targeted by the A/B test.
Remember that while the A/B test itself is free of charge, there will be costs associated with the impressions generated by the creatives used in the A/B test. To learn more about impressions, please visit this article.
Note: To end the A/B test, click the End test button in the side panel. When you end the A/B test, you can either select a winner or none. The creative you choose as a winner will continue to run in your ads, and your other creative(s) won't get served any longer.
Note¹: To set the A/B Test live, copy the creative's ad tag code to your ad platform of choice within three days.