With this feature, you can edit and animate your PSD files using Creatopy without any Photoshop or other advanced design skills.
Read on to see how straightforward the entire uploading process is.
Creatopy can help whether you need to:
open a PSD file without having Photoshop installed;

quickly edit a PSD file and can't wait for your designer to help you out;

create multiple sizes of the same design, and you only have the PSD file;

animate a design in PSD format.
A. How to Upload a PSD File in Creatopy
There are three possible ways to upload your files.
Once you're on the dashboard, click on the Create from PSD and choose the file you want to upload.

This button you'll find on the dashboard as well. Click on it, and choose the option Upload a PSD file.

An even faster way to upload your PSD files is directly in the editor by using the Upload file(s) option. To find it, go to the editor's left-hand bar menu 🠆 My Uploads.

B. Selecting the Files
No matter where you choose to upload your files, you can now decide which layers you want to import to Creatopy and start making a new design from your current Photoshop file.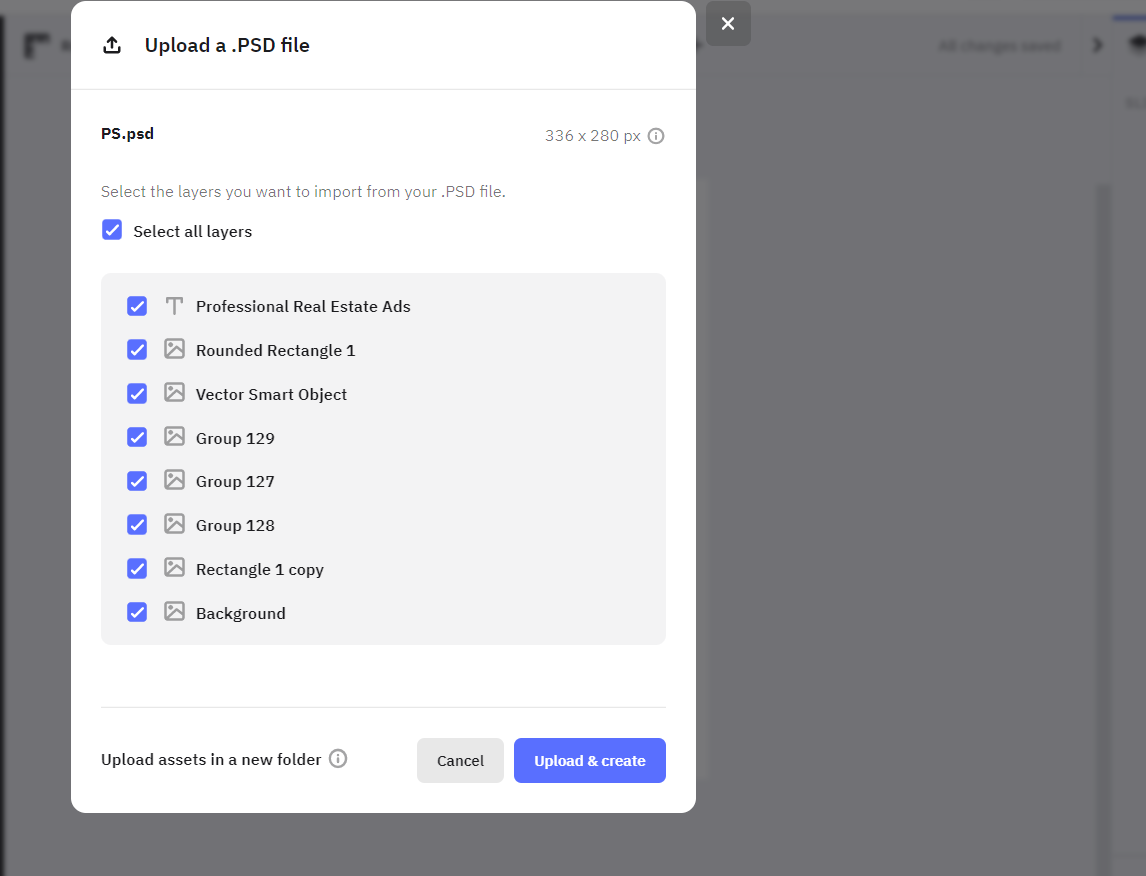 If the PSD file has multiple artboards, the platform's editor will create a separate composition from each artboard. The rulers/guides, layer visibility, and effects will be applied to rasterized layers.
Note: At the moment, clipping and layer masks, overlays, or effects such as blur, drop shadow, and opacity will not be preserved.
Where to Find Your Files
Once you've uploaded your PSD file, a folder containing the assets will be created in the Brand kit assigned to your Project. You can view the folder by accessing the dashboard 🠆 Brand kit 🠆 Licensed elements.

Uploading a PSD File From Illustrator
If you prefer to use Illustrator instead of Photoshop, here is how you can generate a PSD file from Illustrator in just two simple steps.
1. Group the layers
The first thing you need to do is group all the layers you want to export. You can also rename them to make it easier to work with them later.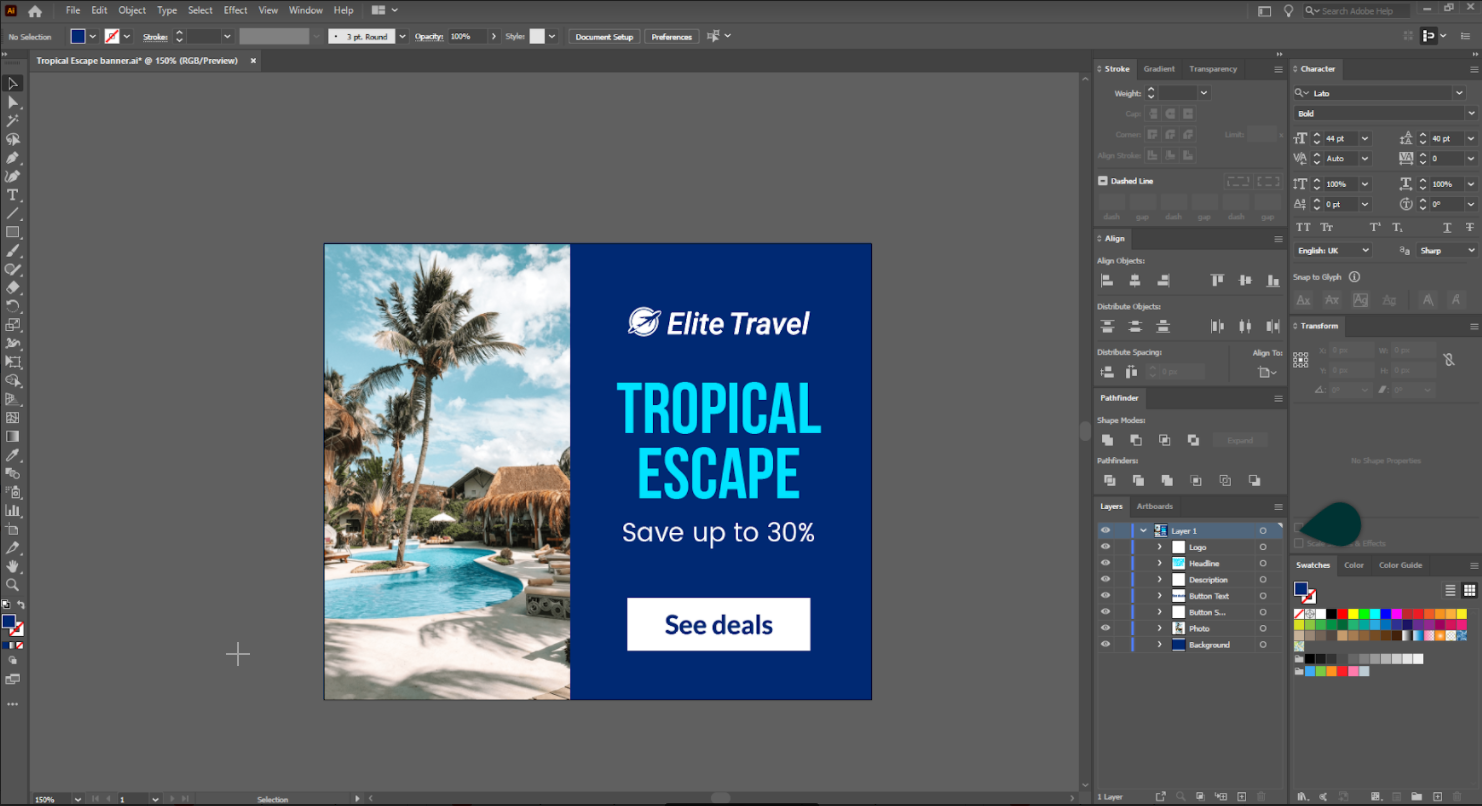 2. Export the layers
After grouping the layers, you can click on File 🠆 Export 🠆 Export as 🠆 Photoshop. On the export tab that appears, set the color model to RGB and enable the Write Layers options.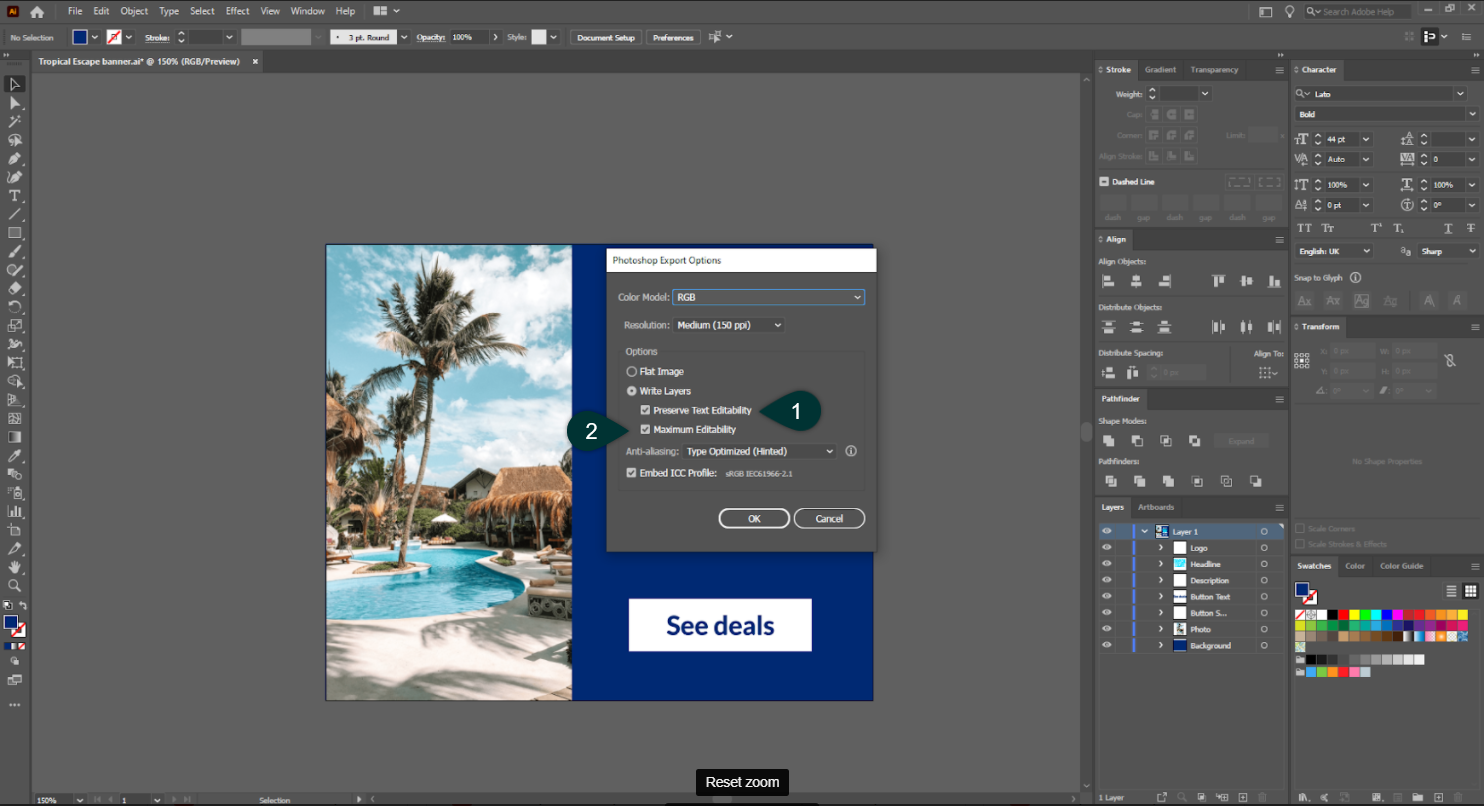 This will generate a PSD file with all the layers you've created in Illustrator, ready to be uploaded in Creatopy.
And there you have it. All you need to do is edit your designs and get them ready to be shared.