In this article, we're going to cover the Ad Serving feature. We'll go through its definition, the benefits of using it, and its functionality. Keep in mind that this feature is available through the Ad delivery and optimization addon, which can be acquired if you have a Pro or Plus subscription. If you wish to learn more about the characteristics of our subscription plans and available add-ons, please visit this page.
What is Ad Serving?
Ad Serving allows you to generate an optimized HTML script called an Ad Tag tailored for specific Ad Networks. It enables you to serve your ads from Creatopy directly into your Ad Network of choice, and it's been designed to withstand high volumes of traffic.
Benefits of Using Ad Serving
No Size Limitation. Because the designs are stored on our servers, where you have unlimited storage, you don't need to be concerned about the size limitations imposed by your Ad Network.
Make Live Changes. You can effortlessly update designs that have already been deployed. In other words, you don't need to stop your campaign; download your updated design and reupload it to your Ad Network.
Access to Reports & Analytics. You can download a CSV performance report directly from Creatopy.
How to Activate Ad Serving for your Designs
Open your Design/Design Set.
Click Ad Serving.
Click Enable.
The Ad Serving window will open, where you can:

Add a Click Tag. Allows you to add a landing page source to your design. What's more, you can choose how to landing page will open: New tab / The same tab.
Select Responsive scaling. Enables your creatives to scale automatically for various resolutions so that your design-to-screen ratio remains appropriate.
Add Ad Network. Select your Ad Network of choice.

Obtain your Code in the following ways:

Download as XLS. A spreadsheet is downloaded to your computer, where you can copy the Ad Tag.
Copy code. Copy the Ad Tag directly from Creatopy.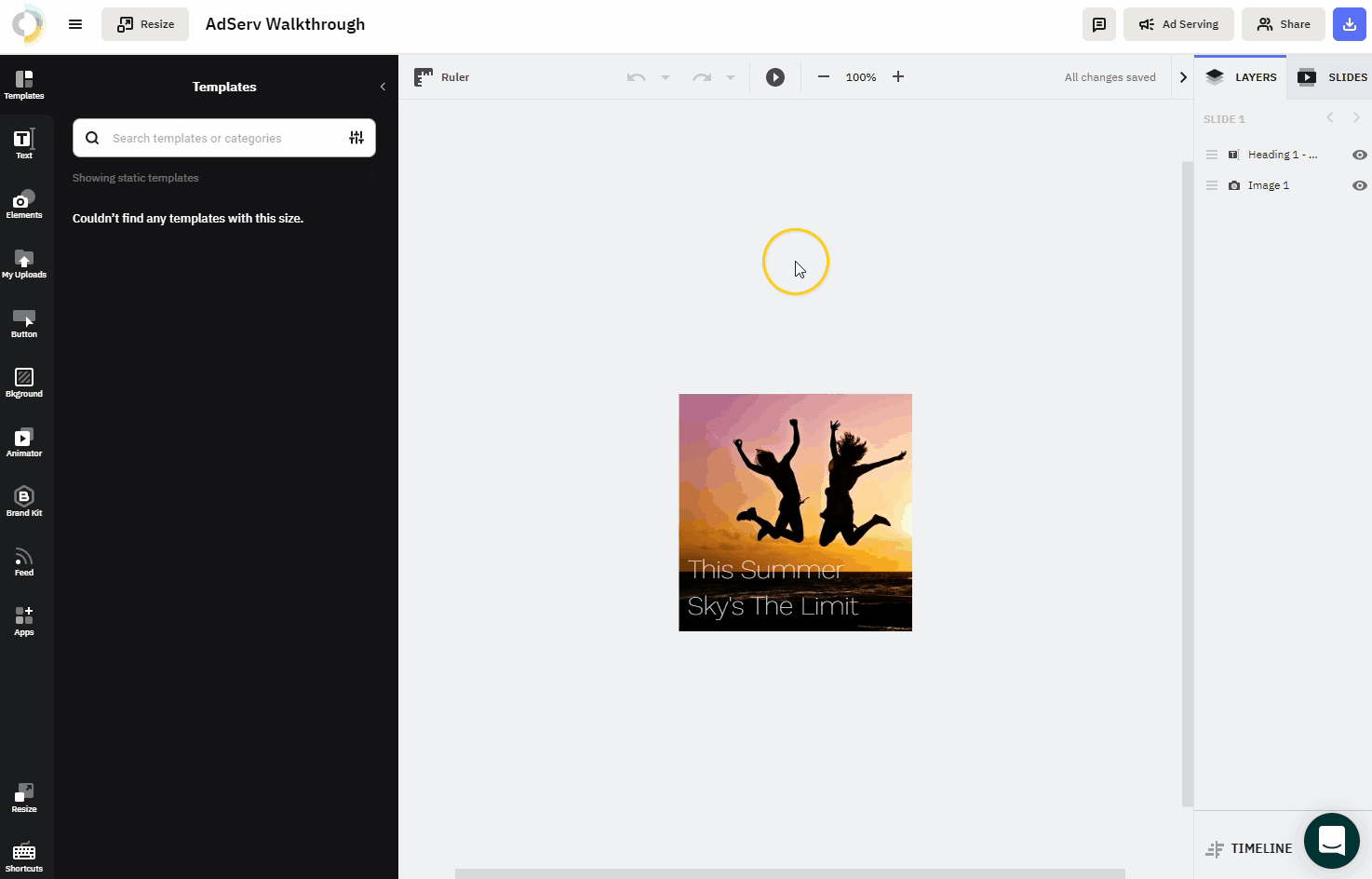 How to Make Live Changes
As mentioned above, one of the main benefits of using the Ad Serving add-on is that you can make live changes to the already deployed creatives in a few easy steps:
Adjust the changes for your Design/Design Set accordingly.

After modifying your Design, you'll notice that the Ad Serving button will switch to an orange color.

Click Ad Serving.
Click Update live content.