What exactly is custom branding?
It works almost like a white label giving you the possibility to hide brand associations. You can hide Creatopy related brand references to maintain a consistent brand image for your company when showcasing your designs with your clients.
This can be useful in a couple of ways. Firstly, when you use the custom link, you send traffic to your own website rather than Creatopy.
And secondly, your designs will be branded according to your company without any mention of our platform. That can make a good impression on your clients, strengthening your brand's position and your professionalism.


How does custom branding work?

You have to set up your own subdomain by adding a CNAME record. This will replace our Creatopy URL when you send your designs over to stakeholders, displaying your brand subdomain.
To get things started, select your desired team and then go to Team Settings, where you select Custom branding, and follow these steps:
1. Copy the Creatopy CNAME
2. Visit the DNS settings from your domain registrar (the website that sold and allowed you to register your current website address) and create a subdomain. The subdomain requires adding a CNAME record (e.g., designs.mydomain.com) that points to my.creatopy.com.
Note: All domain registrars work differently, so in some cases, a subdomain might be created automatically by adding a CNAME record.
3. Return to Creatopy and enter your website's subdomain under Your subdomain name.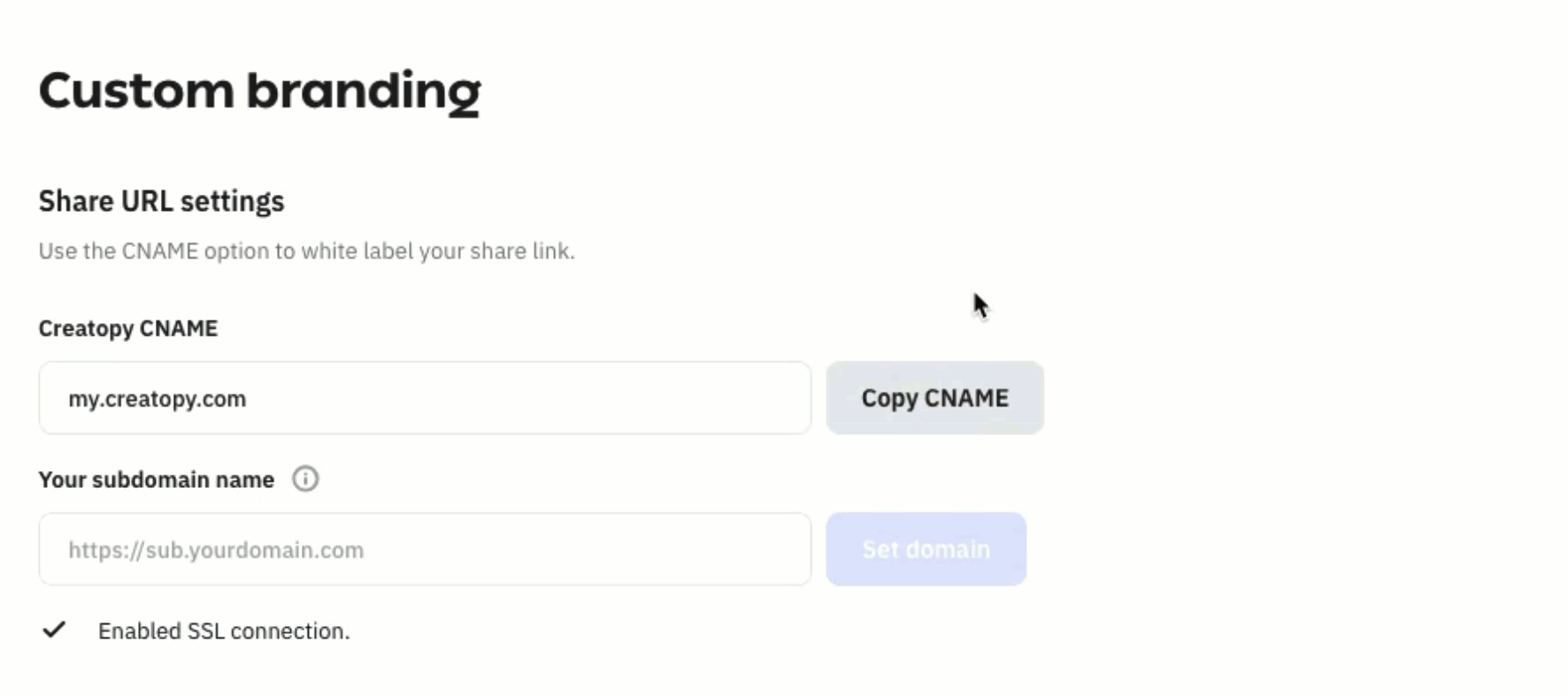 Note: The representation above applies strictly to Cloudflare.
Below you have a list of guidelines on how to change DNS settings for the most common domain providers:
To personalize your share link further, you can change the logo, favicon, and header color following your own brand guidelines.
Once you set up everything, use the preview screen to check how it looks like in real-time.

Note: DNS propagation can sometimes take a few hours, depending on how cluttered the network is. Don't worry if the changes don't apply instantly.
If the changes aren't displayed in 24 hours, contact us through our live chat bubble, and one of our representatives will help you sort it out.