Streamline your design process and save valuable time using the Creatopy integration with Zapier. Through Zapier, you can establish custom triggers that activate Creatopy's API, automating the creation of visuals using templates from your Creatopy team. These designs can be efficiently distributed via email or conveniently stored in your preferred cloud storage service.
You can visit this link for comprehensive documentation on setting up your zaps.
Benefits of Using Creatopy with Zapier
Automation. Zapier allows you to automate your design creation process by using Zaps.
Efficiency. By automating tasks, you can increase efficiency in your workflow. For example, you can generate design variations through a spreadsheet or an E-commerce platform.
Flexibility. Zapier offers a high degree of flexibility in setting up your automation. You can trigger events and actions, set up filters and conditions, and customize how data is passed between apps.
Increased Productivity. By automating repetitive tasks, you and your team can focus on more important and creative aspects of your work, ultimately increasing overall productivity.
Before We Begin
Please ensure you have the following prerequisites for a smooth and successful transition between Creatopy and Zapier.
An active Pro or Plus subscription.
Ad variations production add-on.
Zapier account.
Designs or design sets to act as templates¹
Ensure that the new elements you'll use to create design variations should be of similar size and format to the original elements in your templates.
Connect Creatopy with Zapier
Making the connection between the two platforms is a straightforward process.
First, create the API key. From your Creatopy account, head to your profile in the upper right corner and go to Manage account.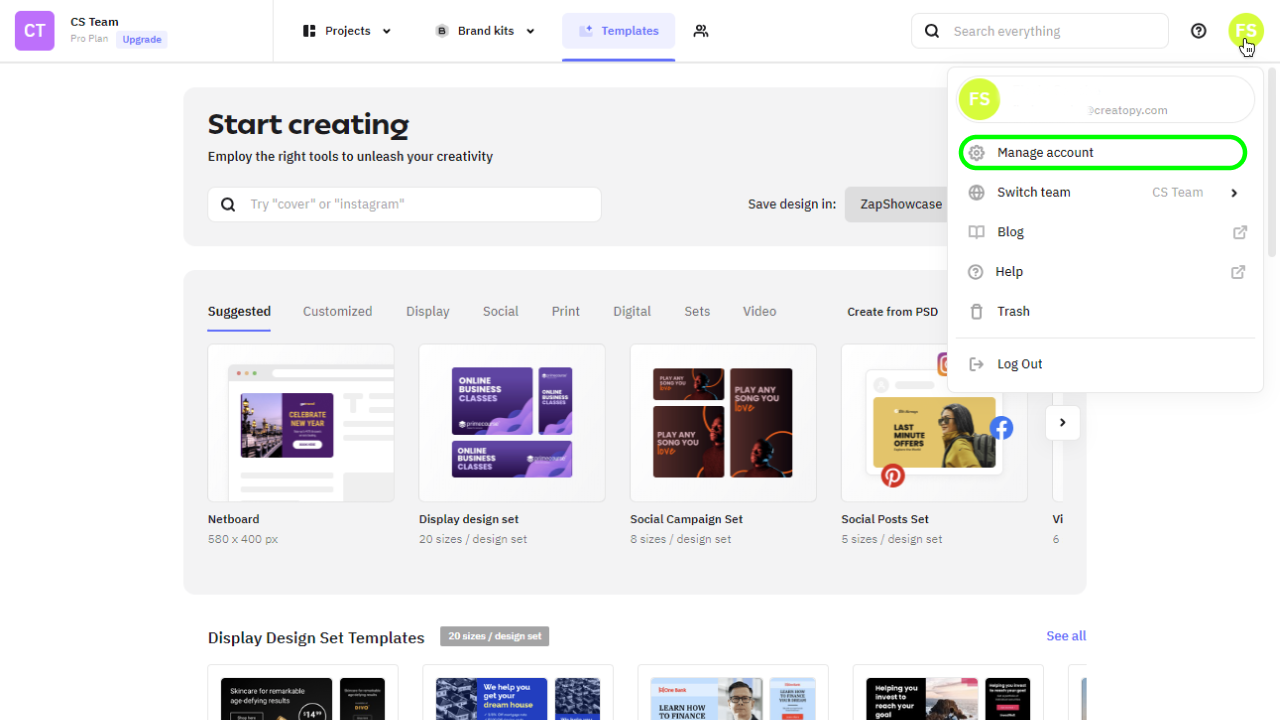 Next, under the Team settings section, go to API credentials² and click Create API key*, which you'll use to connect Creatopy with your Zapier account.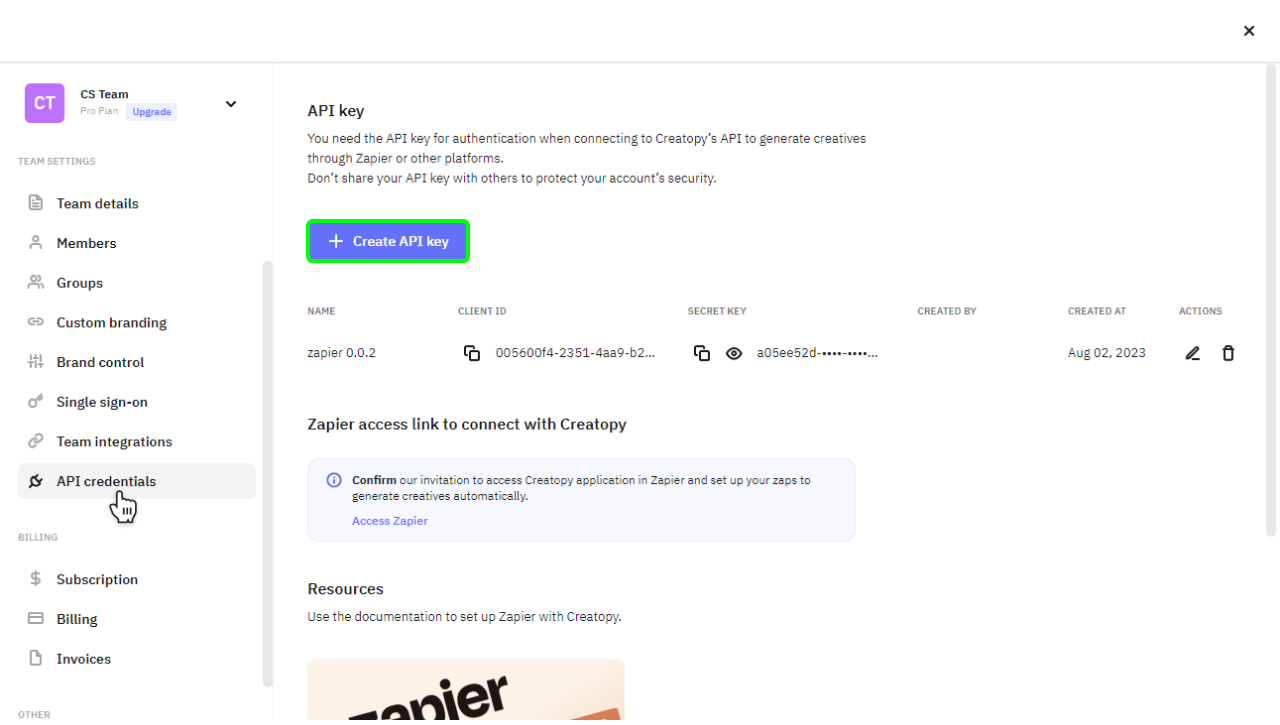 Lastly, go to Access Zapier, which will connect Creatopy and Zapier. All that's left to do is to click on Accept Invite & Build a Zap.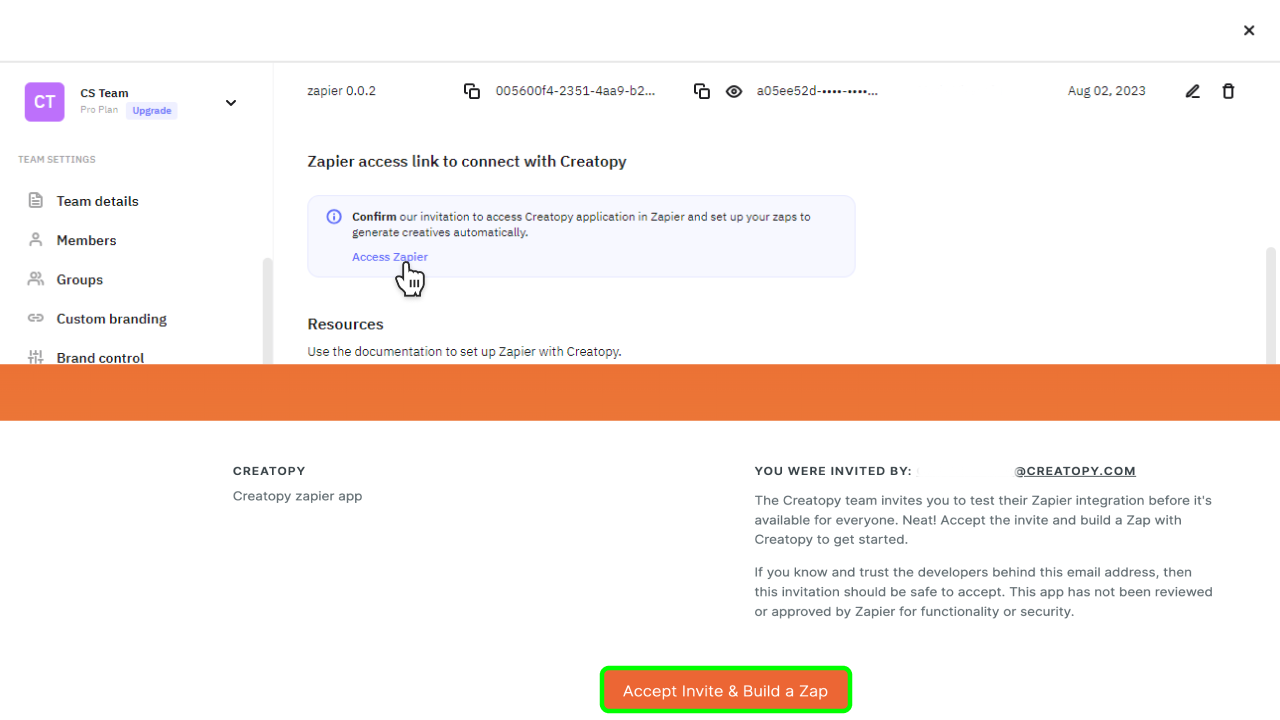 Note¹: Each layer within the design should have a distinct name for easy identification, and no title should be used twice. When working with designs with multiple slides, you can name the layers differently (e.g., Heading slide 1, Heading slide 2)
Note²: Team settings can be accessed by a Team Owner or an Admin. To learn more about roles and rights, please visit this page.
Important*: Deleting an API key will block all already configured integrations from accessing Creatopy's API. That means your Zapier workflows won't work anymore, for example. You can either create a new API key and replace it in the integrations you made before deleting it or create a new one and re-create the integrations.